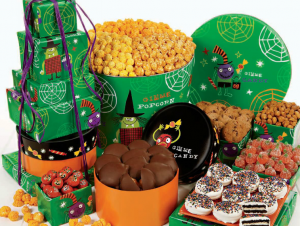 Welcome back Popcorn Fans!
The combination crisp air, changing of the leaves and an abundance of sweaters everywhere signifies the end of the summer and our anxious countdown to our favorite holidays! We know it's early, but we just couldn't wait to share all of our hard (yet fun!) work with all of our loyal customers and fans. Today is the start of our Halloween treats and gifts preview! It's your chance to order these festively fun, scrumptious Halloween candy and popcorn before the rush and share the excitement with us!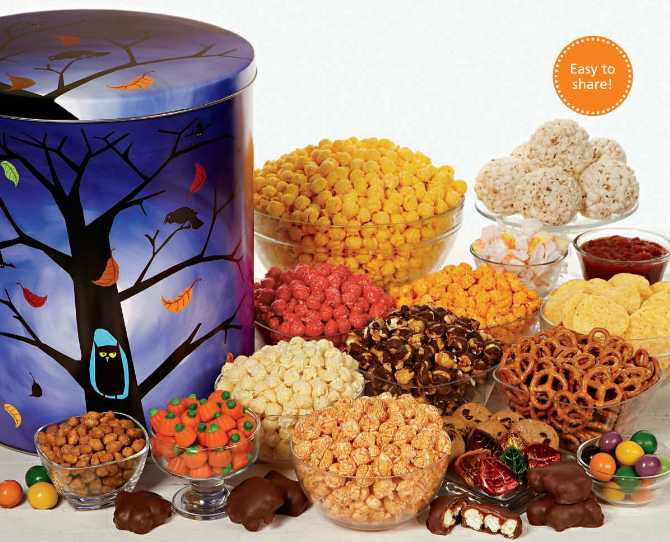 Get started on the Halloween spirit with these scary good gifts! Our newNight Owl design is terrifyingly festive and gives any gift that ghostly touch. Our Happy Halloween and Gimme Popcorn designs are whimsical, fun, and in the spirit of the haunting season! Kids will love the ghoulish cartoons and playful lettering just as much as the gourmet popcorn and candy awaiting them inside. The Gimme Candy tote bag is great for enjoying our premium popcorn and snacks, and then reusing the tote for trick-or-treating. There's a design in our new Halloween collection for everyone!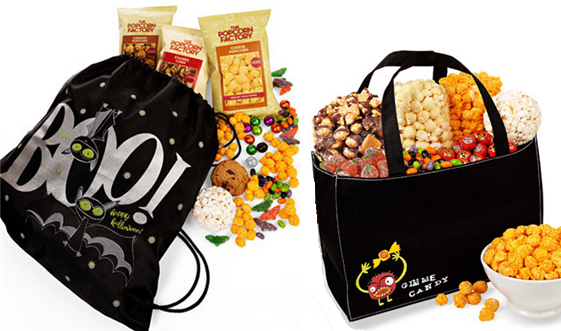 Back by popular demand are our Mr. Bone Jangles and Boo Bats designed Halloween gifts! Take your pick with colorful gift towers and hauntingly delicious popcorn tins. Get set for Halloween night with our Boo Bats Backpack gift, filled with Halloween candy, popcorn and ready to reuse for a secure night of trick-or-treating.
Making their debut are some frightfully delicious new gourmet popcorn flavors like sour green apple, zombie kettle, skinny sea salt, and more! We're also welcoming back our favorite chocolate popcorn flavors like dark chocolate and sea salt, chocolate drizzle, and s'mores.
When the goodies inside the tins and gift towers are done, reuse this spooktacular gifts as Halloween decoration around the house! The popcorn tins would make the perfect candy bowl for Halloween, too.
Check out our whole collection here and order before they creep back into hiding!
Happy Hauntings!