If your dad is never one to say no to a snack, we've got good news for you — we're about to make Father's Day shopping a whole lot easier!
We hate to break it to you, but dad doesn't want another tie, computer bag, or some sort of high tech razor this year. What he really wants? To enjoy his favorite hobbies while snacking till his heart is content.
For the Movie-Lover
Whether your dad has had the same favorite movie for the past 20 years or he's a full-fledged cinephile, give him the gift of movie tickets, his favorite DVD, or even two hours of uninterrupted "me time" to watch whatever he wants. While he's enjoying his much-deserved time on the couch, give him every movie-lovers favorite food to snack on — popcorn!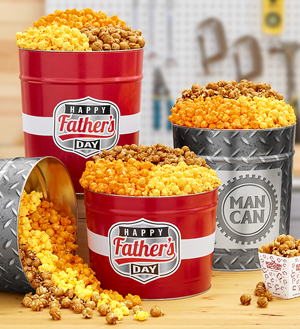 For the Sports Enthusiast
With baseball season finally upon us, give dad a gift that's a real home run, like tickets to his favorite MLB game. If tickets are a bit too pricey or your dad can't make it to a game, give him everything he'll need to cheer on his favorite team from the comfort of his home. Even if he's really on the couch, branded popcorn tins, peanuts, and sour candies will have dad feeling like he's sitting right behind home plate.
If dad prefers to spend time on the green, rather than the diamond, he'll love a golfing gift set that truly is good enough to eat.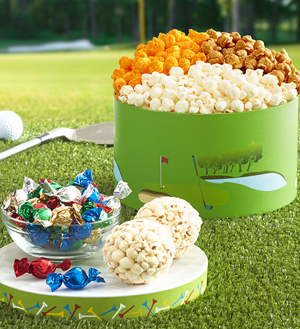 For the Outdoorsman
If your dad loves all things hiking, hunting, fishing, and camping, we've got the snacks he'll need to keep him alert and energized out there in the Great Outdoors.
For the Breakfast-Lover
If the smell of bacon is the only thing that can get your dad out of bed on the weekends, he'll love our very appropriately named "Bacon Lovers Box." Now, dad can enjoy bacon-flavored popcorn, taffy, and peanuts right after his plate of actual bacon and eggs.
Twists on Traditional Gifts
When we said dad didn't want a tie for a gift, we meant one he could wear. But a cookie tie? Now you're talking his language!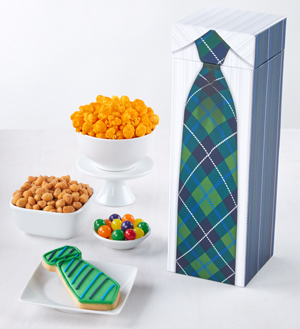 Want to show your dad just how much you love him well past June? Sign him up for our "Flavor of the Month Club." For a full year, he'll get to enjoy a different flavor of gourmet popcorn each month (and you'll get to brag about a great gift!).