Welcome back readers!
What to do with that tin of delicious popcorn and treats now that it is empty? That has been the big question on all of our minds here at The Popcorn Factory. We recently asked our loyal customers to tell us how they reuse their popcorn tins, resulting in us trying out a few ideas of our own. One of our many ideas we gathered was reusing the tins for dog food, or any kind of pet food for that matter. Makes sense to us when you see how sturdy our popcorn tins are and how fresh they keep our delicious gourmet treats!
Here is a detailed, easy to do, step by step way to turn your old popcorn tins into a decorative fun alternative to storing dog food.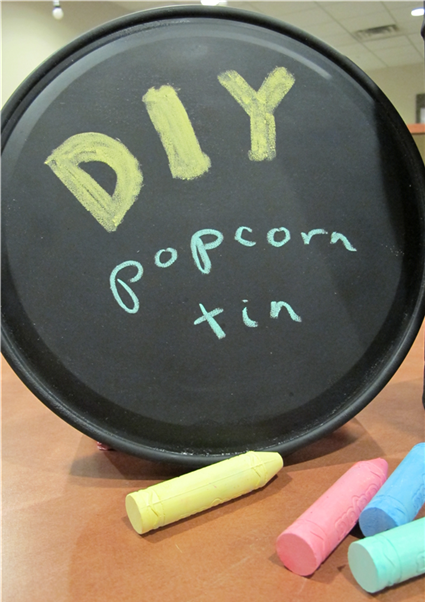 First, gather all of the necessary supplies for this project. This will include: chalkboard spray paint (which can be found at any craft stores or Home Depot), chalk, some sort of newspaper or garbage bag to cover the surface you will be using to spray-paint or to let the tin sit on top of to dry, gloves, and of course your popcorn tin!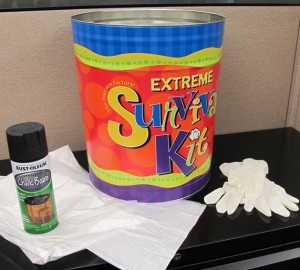 Next, you will want to make sure the popcorn tin is clean, wiped down, and ready to be sprayed. Using primer is a good way to create a clean foundation before officially spray painting the tin, but it is optional. We did not choose to use this step and the results were still great!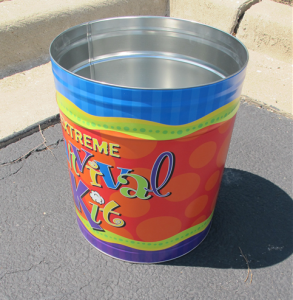 Now it is time to apply the chalkboard paint! Make sure you stand about 5 to 6 feet away from your tin. The paint should begin drying fairly fast so for a smoother look make sure you evenly spray around the tin; trying not to do more than two coats. Trust us, you'll need the gloves for this!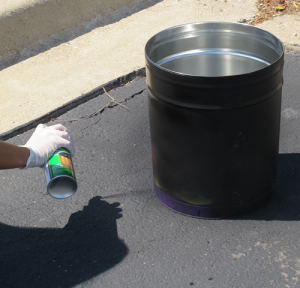 We then spray painted the lid to our tin in the exact same fashion. Whether you do the actual tin or the lid first does not matter, just make sure you let your finished products dry completely before continuing. We set ours on the garbage bag pictured in our first step and let our tin and lid dry overnight to make sure everything was set. With a touch test, we noticed the tins drying within the first hour or two, but better safe than sorry with black chalk board paint on your belongings!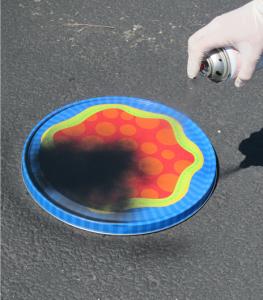 Next comes the fun part (or at least for us it was!) decorating your chalkboard painted tin. Any sort of chalk will suffice, even sidewalk children's chalk comes out fantastic. Here are the end results of our up-cycled popcorn tin. We hope you find this to be a great and fun way to reuse those old popcorn tins just like we did.
Good luck!