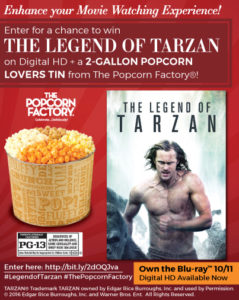 The Popcorn Factory Fans! Enter for a chance to win popcorn and a movie! We've teamed up with Warner Bros. Home Entertainment to enhance your movie watching experience. We're giving away Digital HD copies of The Legend of Tarzan + a 2-gallon Popcorn Lovers Tin!
Tarzan promises to be full of action, romance and an overall fun cinematic experience. Tarzan, having acclimated to life in London, is called back to his former home in the jungle to investigate the activities at a mining encampment.  You don't want to miss out on this fun opportunity to not only win a Digital HD copy, but you will ALSO win  our NEW Popcorn Lovers Tin design with gallons filled with pure popcorn happiness. You will get 2 Gallons with 4 delectable flavors: Butter, Cheese, Caramel and White Cheddar. A delectable mix!
To enter, visit our Facebook Page: http://bit.ly/2dFUcIV
Be sure to check out The Legend of Tarzan on their Facebook Page: https://www.facebook.com/LegendofTarzan
Own the Blu-ray™ 10/11. Digital HD Available Now!
#LegendofTarzan  @LegendofTarzan  #ThePopcornFactory @ThePopcornFactory