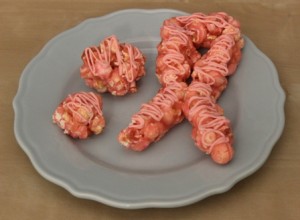 It's officially National Breast Cancer Awareness Month! All throughout October, charities across the country will be spreading the word about the battle against breast cancer and raising money for a cure. Millions of men and women will be donning pink as a reminder that breast cancer can be defeated with regular breast exams, mammograms and other early-detection screenings. Plus, hundreds of organizations will be helping patients and survivors understand their diagnosis, choose the best treatment and get emotional support.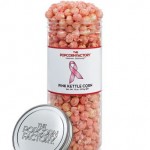 To do our part in the national movement against breast cancer, The Popcorn Factory has launched a brand-new snack: pink kettle corn! You too can help support the campaign by giving this delicious gift to the women you care about most. Every time you buy a container, we'll donate a portion of the proceeds to charity! There are dozens of ways you can use pink popcorn to send your message: Mail it to your friend as an invitation to get a screening together, or serve the sweet and savory treat at your next fundraising event. Throwing a pink-themed party? You can get crafty and whip up these easy-to-make pink popcorn ribbons:
20 cups pink kettle corn
3/4 cup corn syrup
1/4 cup margarine
2 5/8 cups sugar
1 cup marshmallows
2 teaspoons water
Directions
Place pink kettle corn into a large mixing bowl.
Combine corn syrup, margarine, sugar, marshmallows and water in a saucepan. Heat on medium until the mixture starts to boil.
Once the syrup has boiled, pour it over the pink popcorn and stir until the popcorn is completely covered in syrup.
After the popcorn has slightly cooled, butter your hands and mold the popcorn into the shape of a pink Breast Cancer Awareness ribbon. Rest the ribbons on wax paper.
Melt a bar of white chocolate in the microwave. Once the chocolate has melted, add two drops of red food coloring. Stir the chocolate until it turns pink.
Lightly drizzle the melted pink chocolate onto the ribbons.
Let the ribbons cool at room temperature until they harden.
Once they've cooled, remove them from the wax paper and serve them on your prettiest platter!
How will you chip in to help women learn more about breast cancer? Are you starting your own charity or fundraiser to help find a cure? Do you want to inspire women by sharing your own experiences as a breast cancer survivor? We want to hear your inspiring stories!