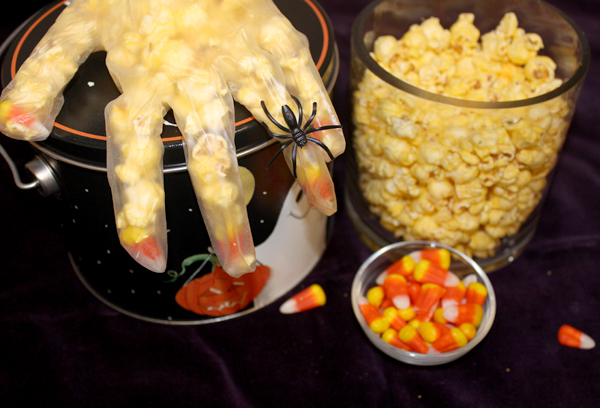 Brew up some magic this season with creepy and cool Halloween crafts for kids! Using just plastic gloves (unpowdered), candy corn, and spider rings, we turned our original butter popcorn into a deliciously wicked Halloween snack – a craft that can be recreated by ghouls and goblins of all ages!
This DIY popcorn witch hands idea is perfect for family night, for festive classroom fun, or for a fun (and delicious) children's Halloween party activity. You can even tie a nametag and use them as place cards or party favors – how bewitching!
Party planning tip: if you're planning on turning this poppin' Halloween craft into a children's Halloween party activity, it is recommended that you first prepare a separate crafting area. Line the table with newspaper or disposable table cloth and provide several small bowls filled with scoopers and popcorn for less mess and more fun!
Supplies for DIY Popcorn Witch Hands
Popcorn
Plastic gloves (unpowdered)
Candy corn
Spider rings
Twist ties or ribbon
Directions for DIY Popcorn Witch Hands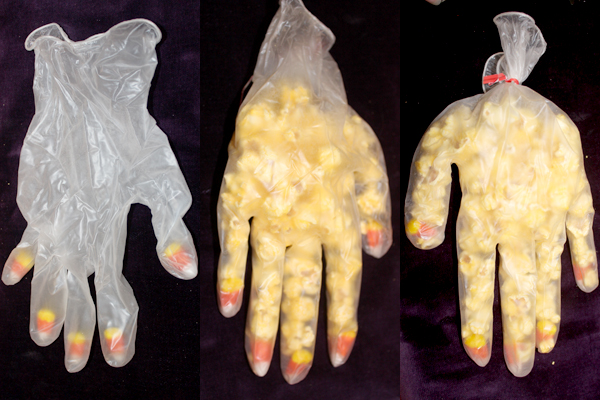 First, slide 1 candy corn piece into each finger slot for the nails. Then, add your popcorn, leaving some room at the ends. Use a twist tie or ribbon to seal the ends.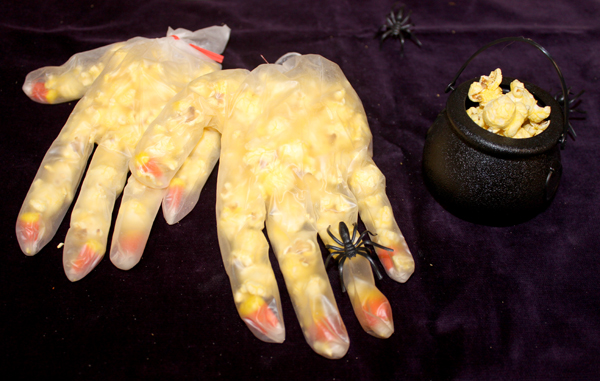 Slide a spider finger onto your witch's hand and bubble, bubble toil and trouble – you've got a tasty Halloween treat that's fun to eat!