We must be very POPular if we get our own month! October is National Popcorn Month and we couldn't be happier. Why October you ask? For over 30 years (Hey! That's how long we've been around!), October has taken the title of National Popcorn Month because of the fall harvest in the Midwest every year. It was given the official title in 1999, under then Secretary of Agriculture Dan Glickman! And now every year, we get an extra reason to celebrate the snack we love most: Popcorn!
We're not the only ones crazy for kernels though! Popcorn was actually discovered first by Native Americans in North America and was used as everyday food or as a supplement to other meals. Evidence was found of popcorn being made in 3600 B.C. in New Mexico, making it one of the oldest forms of cooking corn! Who knew it wasn't just for snacking during movies or baseball? (Well, clearly historians and us of course). An early Spanish account of a ceremony honoring the Aztec gods who watched over fishermen reads: "They scattered before him parched corn, called momochitl, a kind of corn which bursts when parched and discloses its contents and makes itself look like a very white flower; they said these were hailstones given to the god of water." (source).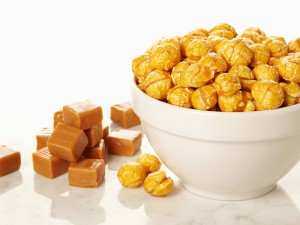 We may be biased, but I think everyone can agree that popcorn is the perfect snack to enjoy year long, with so many variations to choose from! Our all natural butter popcorn is a staple for any movie night; mix it up and add our real cheese popcorn for a popcorn purist's dream mix! No one can resist our secret recipe caramel popcorn, sweet and buttery and always fresh. We're also constantly coming up with new and unique flavors to try! Our peanut brittle popcorn is actually a staff family recipe. Our jalapeno popcorn can rope in anyone who tries it. For any Fall fans out there, our caramel apple popcorn is a must have!
Is your mouth watering yet? Head on over to our site ThePopcornFactory.com and look at all the scrumptious selections we have to offer! Don't forget to try our scary good Halloween collection while it lasts; a wide assortment of savory and sweet popcorn as well as other delicious treats! A Halloween Treat just for you: Save $10 on your order of $50 or more on regular priced items using the promo code "SCARY" before 10/24/2011. You'll be celebrating the holiday deliciously in no time!
Happy Hauntings and Poppings!