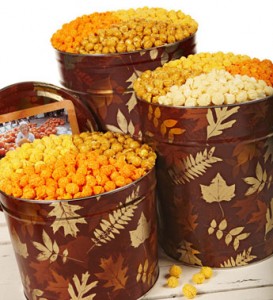 The Holiday season is in full swing for us at The Popcorn Factory, and certainly with you too! We're planning so many great things for Thanksgiving and our Winter Holidays that we can't wait to share them with all of you.
Of course, all of our attention and focus right now is on one of our favorite Holidays: Thanksgiving. Being the popcorn and Holiday savvy poppers we are, we know that Thanksgiving and popcorn go hand in hand!
Popcorn was around for the very first Thanksgiving Day dinner in Plymouth, Massachusetts (and was a sure-fire hit if we do say!) Bags of popped corn were brought to the first Thanksgiving feast as a gift from the chief's brother. Native Americans made popcorn by holding an oiled ear of corn on a stick over fire and then eating the popped corn off of the ear! Colonists later incorporated popcorn into their daily meals and began using popcorn with milk or cream, and sugar, making it the first known breakfast cereal! (I bet our secret recipe caramel popcorn or kettle corn would be perfect to try this way!) This is just another example of popcorn leading the way in tasty snacks and meals.
Popcorn is the ultimate Thanksgiving tradition, so why not make it apart of yours? Light, fluffy, and made with delicious and innovating flavors, our popcorn complements any occasion or meal. You can enjoy our real buttery popcorn as a before-dinner snack while you're watching the Macy's Thanksgiving Day Parade. Chomp down on our natural cheese popcorn without ruining your appetite, as you watch and root for the Packers or Lions, Dolphins or Cowboys, and the 49ers or Ravens! (Not to brag, but we hear our popcorn tastes even greater than a win when coming from one of our many NFL popcorn tins that we offer).
Just finished a huge Thanksgiving dinner but you still want dessert? Our secret recipe caramel popcorn makes the perfect post-Thanksgiving dinner dessert. This buttery and sweet combination is a super satisfying treat and goes perfectly with any turkey, potato, or green dish (plus, who are we to shake up a several century's long tradition of popcorn at Thanksgiving!) Simple and tasty to eat, without putting a strain on an already full stomach!
We've been popping since 1979 with fresh, fun, and delicious popcorn flavors, so let us be your popcorn experts this Thanksgiving holiday and get a great snack that you can be thankful for!