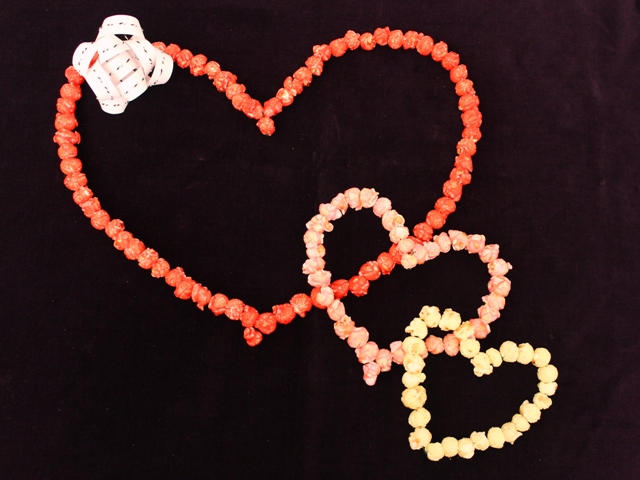 Valentine's Day is slowly sneaking up on us, so that means it's time to have some crafty fun with the snack that makes everyone's heart beat fast with excitement! Whether you give it away as a cute alternative to the typical box of chocolates or use it to decorate your house with some love, this popcorn heart will be your favorite DIY project for V-Day. Why? Because kids and adults of all ages can have a ball making it, and it only requires two simple materials: popcorn and floral wire. So go ahead; make some adorable popcorn hearts of your own and put your ticker on display!
What You'll Need
One canister of Valentine Kettle Corn
Floral wire
Glitter spray (optional)
Directions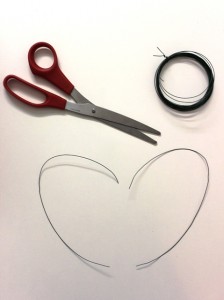 Depending on how big or small you want to make your popcorn heart, cut two even pieces of floral wire to the length of your choice.
String the Valentine Kettle Corn onto both pieces of floral wire, leaving a couple of inches of exposed wire on each end. You can string the popcorn in any pattern you like. Try red and white; all red; or all white. You can even make all three!

Bend each piece of popcorn-threaded wire so that it looks like a half of a heart.

Tightly twist together the two exposed pieces of wire at the top of the heart to connect the two halves. Do the same with the exposed wire at the bottom of the heart.

Stick one piece of popcorn onto each twisted end to cover up the exposed wire, and make your final adjustments to the heart shape.

If your popcorn heart is only going to be used for décor—not for snacking—give it a little bit of romantic bling by spraying it with glitter. Hang it on your wall to make some dreamy V-Day art, or wrap it in cellophane and tie it with a lovely ribbon or bow to create a one-of-a-kind Valentine's Day gift.
Who will you give your beloved popcorn heart to this Valentine's Day?