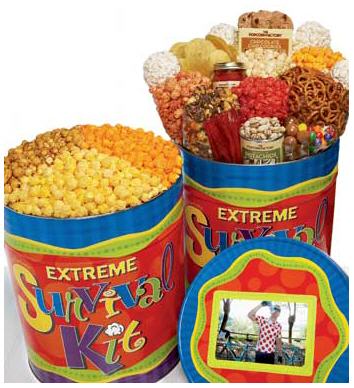 Another school year is here! It's time for buying books, going to classes, late-night study sessions, and the occasional paper or test. Or perhaps this is yours or your loved ones first year going away for college and making a fresh start. No matter which case, it is always a fun, exciting (and maybe a little scary) time for everyone.
During this crazy and busy school time, we know that it's the comforts of home that everyone looks forward to most. Whether you're sending a care package, homecoming gift, study snack, or even their favorite snacks, it will definitely be appreciated (and maybe you'll even get a phone call home!). We like to think that we've perfected our own kind of college survival kits and college study kits; the perfect gifts to let your little think-tank know that you miss and support them…and that you don't want them to starve when they've run out of late night snacks and the campus store is closed! A delicious popcorn treat can really help keep focus for an all-night study session, and is the perfect between meal snack to keep them full and happy.
These tins are also perfect for fast approaching Homecoming weekends! Show your school pride if you're an Illini, Badger, or any of your other favorite mascots. These college team tins are great to bring to any tailgating parties, mid-game cravings, or a delicious gift to any alumnus.
We don't like to brag (too much) but we bet if they shared one of our delicious sample popcorn tins with our secret recipe caramel, or our real cheese cheddar popcorn, they will be making friends in no time. Several of our snack tins include our favorite flavors of popcorn like butter, white cheddar, or secret recipe caramel. They also include a variety of tasty bites like cookies, chips, candy and many more sweets to keep your scholars satisfied. We can even personalize the messages on the tins with a picture or note (this would be the perfect time for any silly family photos from home). When they're done with the goodies inside, the tins are perfect for storage and decorated with your University's logo and colors or fun, bright designs so that they can easily fit in with the dorm décor.
So what do you all think? Let us know in the comments what would be in your ultimate college survival tin? Don't forget to check us out on Facebook as well!