As the dog days of summer wind down, it's time to start gearing up for fall, which means it's time to head Back to School! College is a big step for parents and their new students. As you send them on their way, make sure you remind them how much you care and how proud you are of them when you surprise them with one of our Care Packages filled with delicious popcorn and treats. We have a wide selection of treats they'll be sure to love and share with their new roommates!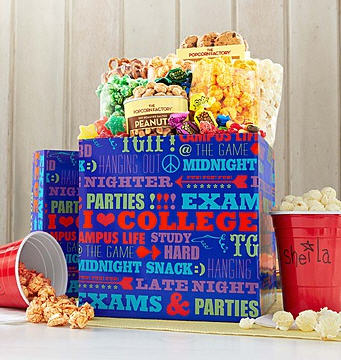 Here's a school you'll never want to graduate from! The University of Snacks invites you to study these tempting munchies: Gourmet Cheese Popcorn, White Cheddar Popcorn, Sour Green Apple Kettle Corn and Buffalo Ranch Popcorn; Mini Pretzels, Chocolate Chip Cookies, Dry Roast Peanuts, Sour Stars, Jelly Belly® Beans and Sour Sassy Taffy.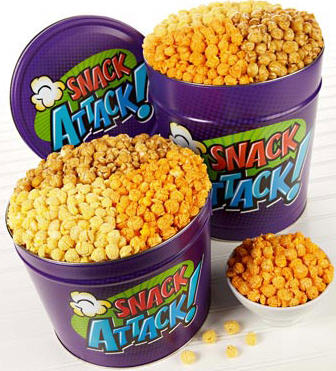 When hunger hits, hit back! Our 2 and 3½ gallon Snack Attack Popcorn Tins come filled with freshly popped Gourmet Popcorn in our three most popular flavors—Butter, Cheese, and Caramel.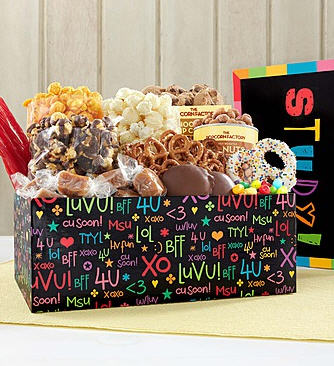 Whether your student is working hard at home or away at college, this Deluxe Sampler in our new Study design is sure to make them score a 100. We've filled this shareable snack gift box with so many delicious treats-chocolate chip cookies, honey roast peanuts, mini pretzels, assorted Jelly Belly® beans, double twist caramels, 2 Rainbow sandwich cookies, red licorice twists, robust Cheese popcorn, delicate White Cheddar popcorn, and Almond Pecan corn, it will make studying truly enjoyable.