What moves you to make someone smile? Celebrate all of life's moments- big, small, or in between and never miss an opportunity to express how you feel… "just because!"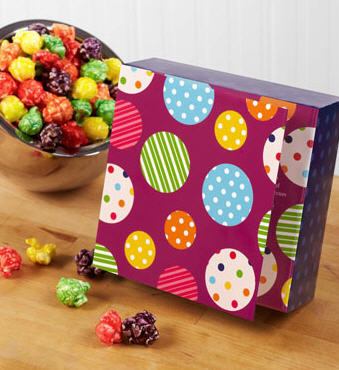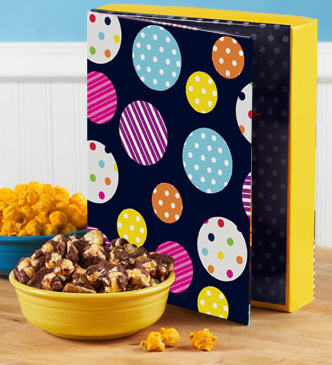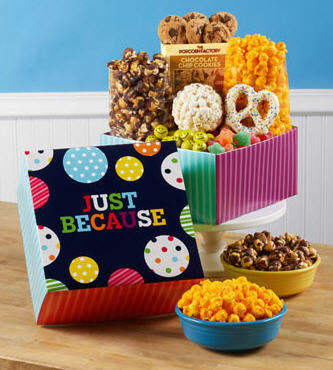 "Just Because… Everybody loves popcorn!"
Delivering a smile is easy when you choose to send our gourmet popcorn gifts filled with sweets and treats.
Our Popcorn Card offers a bag of our gourmet Kettle Corn in an assortment of festive colors.
Choose from a wide selection of unique gift ideas that are perfect for any and every occasion. Our sweet & salty Cornfetti Kettle Corn blends fun and festive colors with delicious, gourmet popcorn. Choose between twelve different quirky and delicious Just Because sentiments:
•  I Shouldn't Have, But I Did!
•  I'm Thinking of You!
•  You Deserve a Smile!
•  You Can't Eat a Tweet!
•  I Miss You!

It doesn't matter what you want to say whether it's: "Happy National Friendship Day!" "Thanks for helping me move," or "Just because I miss you," let them know you're thinking about them in a special way.
Our Large Popcorn Card offers a bag of scrumptious S'Mores Corn and a bag of our classic Cheese Popcorn.
Our Just Because Sampler delivers a gourmet sentiment sure to make an impression.
Don't just wait for a holiday, birthday, or anniversary when you send an unexpected gift to your loved ones; you can send one Just Because!