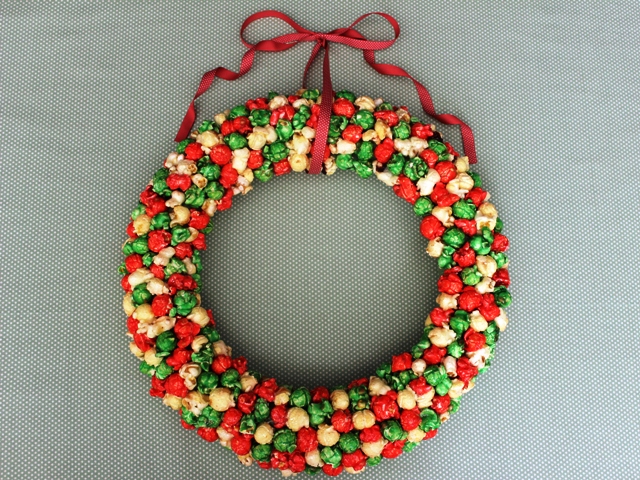 Deck the halls with kernels of popcorn! All you need is a couple of crafty tools and some festive holiday treats to create a Christmas wreath that even Santa Claus himself would envy! Just follow this easy three-step tutorial:
What You'll Need
One green Styrofoam wreath
One 3-canister set of The Popcorn Factory's Holiday Assortment
One hot glue gun
Christmas ribbon
Directions
Using a hot glue gun, carefully glue the popcorn onto the Styrofoam wreath, piece by piece. Keep the kernels close together, and use the small pieces of broken popcorn to fill in the gaps. You can mix up the red and green kernels like we did here, or you can separate the colors to create a striped pattern on the wreath. Whatever you do, don't burn yourself!
Allow the wreath to dry completely. When it's ready, loop a Christmas ribbon through the top of the wreath and tie it into a bow.
Give your wreath a touch of winter wonder by spraying it with glitter. Then, hang it on your door, above your fireplace or on your window. For even more ideas on how to decorate your house with a wreath, check out this fun blog from 1-800-Flowers.com!
Ho, ho, ho! Now good old Saint Nick can be greeted with a beautiful Christmas wreath when he slides down your chimney!
What other kinds of nifty crafts will you be making with your holiday popcorn this Christmas?