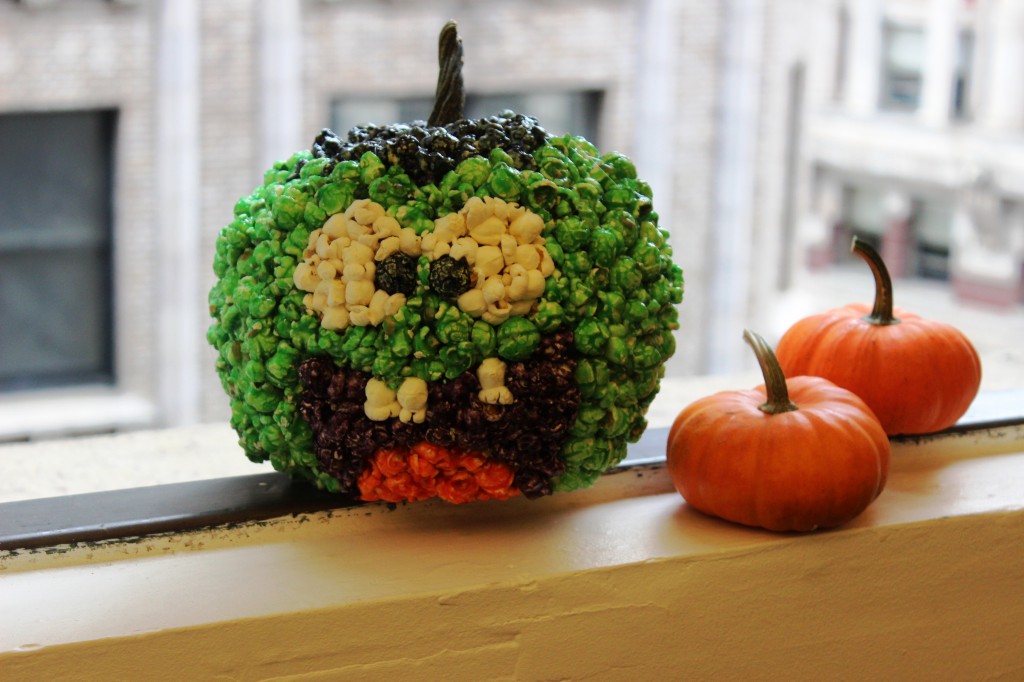 Two things usually come to mind when we think of October 31: Decorating pumpkins and eating Halloween treats! Why not combine the two and dress up a pumpkin with Halloween popcorn? If you're on the hunt for some ghoulish Halloween party ideas, this craft is a hair-raising alternative to the ho-hum Jack-o-lantern.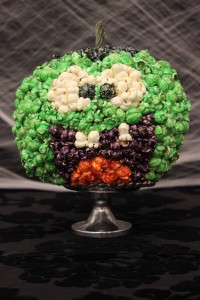 What You'll Need
One small or medium-sized pumpkin
One washable black marker
Two 15-ounce canisters of Zombie Kettle Corn
One hot glue gun
Directions
Using the washable marker, draw the outline of a monster face (or any pattern of your choice) onto the surface of the pumpkin.
Separate the Zombie Kettle Corn by its four colors (orange, purple, green and black).
Following the pattern you drew, use the hot glue gun to glue the popcorn onto the surface of the pumpkin. (Be careful not to burn your fingers!) It's easiest to start at the top of the pumpkin and work your way down.
Make sure the kernels are glued close together in a mosaic-like pattern so the orange color of the pumpkin doesn't show through. Use small broken pieces of popcorn to fill in any gaps between kernels.
Welcome your Halloween guests by propping up your little monster on a windowsill, a staircase or your doorstep.
Now it's your turn to tell us: What kinds of unusual materials have you used to decorate a pumpkin?