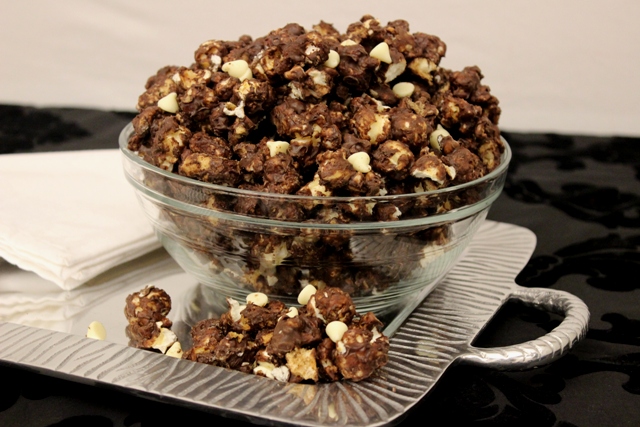 Hear ye, hear ye: We're overjoyed to announce that January 19 is National Popcorn Day! To help you celebrate the world's yummiest and most fun snack, we've gathered a list of exciting National Popcorn Day activities for you to enjoy with your kids. Plus, we've even put together a spankin' new recipe just for you: Our Tuxedo Chocolate Chip Cookie Popcorn is perfectly dressed for the occasion. So get ready; this is going to be one pop-tastic holiday for the whole family!
National Popcorn Day Activities for the Family
Help your kids carefully string together some popcorn to create garland. Hang up your delish décor anywhere in your house, or turn it into an outdoor bird feeder by covering it with birdseed.
Test your kids' knowledge with a pop quiz! Search the Web for some little-known popcorn facts, and then use them to create a flash card game. At the end of the game, each contestant gets a special popcorn treat as a prize.
Go to the library and take out some popcorn-themed books that your kids can read while they munch on their favorite snack.
Print out a bunch of popcorn coloring sheets and let your kids show off their inner pop-casso. Help them proudly display their artwork on the fridge or in a handmade Popsicle stick frame. (Tip: Decorate the frame with glitter and popcorn!)
Or, make a different kind of pop art: Grab some construction paper and glue, plus a few fun popcorn flavors and colors. Help your kids glue the popcorn to the construction paper to create a masterpiece.
To end your holiday on a very sweet note, try our special National Popcorn Day recipe below!
Recipe: Tuxedo Chocolate Chip Cookie Popcorn
What You'll Need
8 chocolate chip cookies with white and milk chocolate chunks
8 cups Peanut Brittle Popcorn*
2 cups semisweet or milk chocolate chips
½ cup white chocolate chips
*Peanut Brittle Popcorn adds a hint of saltiness that perfectly complements the chocolately flavor of the cookies. But if anyone in your family is allergic to peanuts, use another sweet Popcorn Factory flavor instead, like caramel or kettle corn.
Directions
Pour the Peanut Brittle Popcorn into a large mixing bowl.
Crumble the cookies into tiny bite-sized pieces and add them to the bowl of popcorn. Then, add the white chocolate chips and lightly stir the mixture until the popcorn, cookies and chocolate are well-blended.
Place the semisweet or milk chocolate chips in a microwave-safe bowl and heat it in the microwave until it is melted, making sure to stir the chocolate every 30 seconds.
Once the chocolate has melted, pour it over your popcorn mixture and gently stir it to get an even coating.
Pour the popcorn mixture onto a cookie sheet lined with wax paper and spread it out into a thin layer. Cool it in the refrigerator for 5 minutes or until the melted chocolate has completely hardened.
When it's ready, break apart your Tuxedo Chocolate Chip Cookie Popcorn into big chunks and enjoy! Store any leftovers in an airtight container.
How will you and your family celebrate National Popcorn Day?