I­­f you haven't yet had the chance to try one of the hottest culinary crazes of the year, it's time to take the plunge and let your mouth experience the flavor-packed journey that is Sriracha.
It comes as no shock that this hot sauce is getting the attention it deserves – with its savory, one-of-a-kind flavor, paired with an irresistible kick, this spicy treat goes good with almost anything!
To celebrate the release of the hottest member to join The Popcorn Factory family, we're counting down our favorite ways to indulge in this must-try sauce!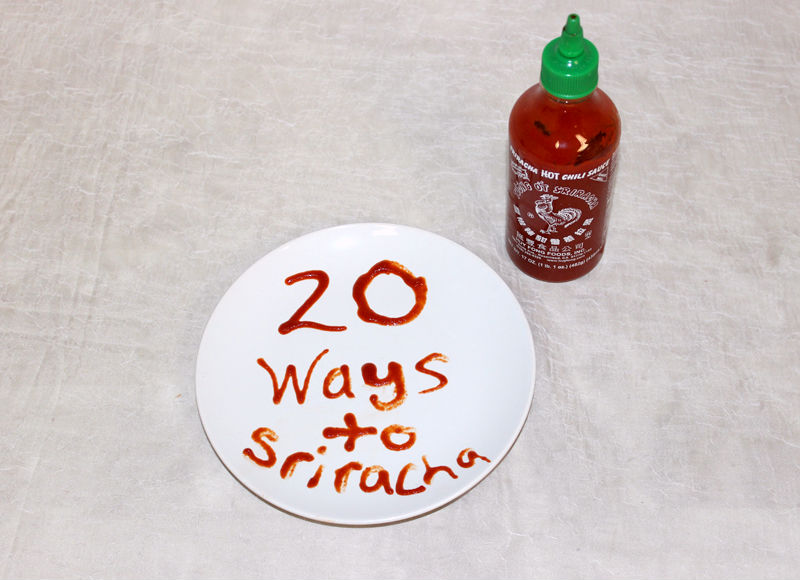 We give you.. 20 Ways to Enjoy Sriracha!
20. On Your Food. The simplest way to enjoy Sriracha? Grab the bottle and pour it onto your favorite main dish. It will instantly take your meal to the next level of flavor!
19. To make spicy ketchup. Would you rather dip than drench? Add a few drops of Sriracha to ketchup to make the ultimate dip with a kick.
18. To bake with. Srircha's spice may be what put it on the map, but its growing popularity is definitely attributed to its savory flavor. Sriracha in the oven dulls down some of the spice, but really brings out the flavor of this hot sauce. So go ahead, add some to your cooking and baking for a mouth-watering dish!
17. For pickling. You can even use this versatile hot sauce in your pickling techniques! (Or just pair our pickle popcorn with our Sriracha popcorn, either way!).
16. As a dip. If you're feeling bold, dump some of this fiery sauce into a bowl for dipping. Be careful not to put too much as you might have a flavor overload!
15. As a cocktail sauce. Turn ordinary cocktail sauce into an adventure for your taste buds by squeezing in a few drops of Sriracha – the perfect pairing for those fancy shrimp you're serving!
14. To spice up your soup. Add Sriracha to soup before it starts to boil. Again, boiling this sauce may weaken some of the spice without dulling the flavor.
13. In salads. If you're craving a spicy salad, top with a bit of this tangy hot sauce – the perfect addition to a colorful garden salad.
12. To make brine. Add a dash of Sriracha to your favorite brine recipe to really bring out that one-of-a-kind bold flavor.
11. To Make lollipops. Who says lollipops have to be sweet? Not us, and definitely not Sriracha! Turn your favorite hot sauce into a confection on a stick with just sugar, corn syrup, and the tastiest hot sauce we ever did eat!
10. As a cupcake topping. When we first saw Sriracha cupcake recipes popping up throughout the blogging community, we'll admit there was a bit of skepticism. Unsurprisingly, the combination of spicy and sweet makes for an unexpected treat worth trying!
9. As a jam. The combination of spicy Sriracha and sweet, succulent fruit makes for one must-try treat that will really wow your taste buds.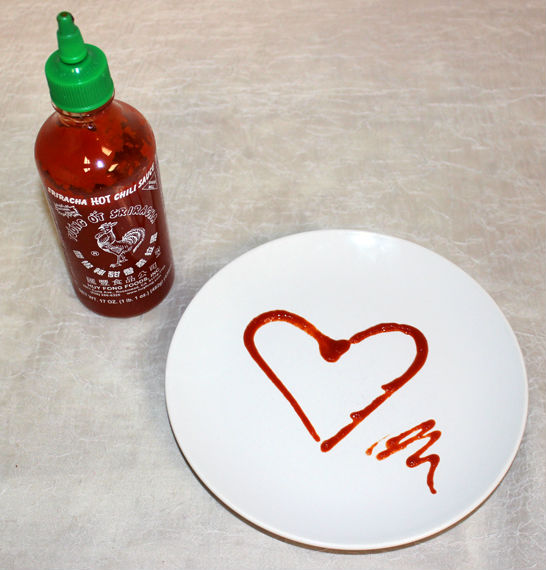 8. To decorate food. The easy-to-pour tip makes creating wow-worthy food art a snap! Give new meaning to "spicy" messages or decorate your foods with a few simple steps.
7. As a marinade. Add a few drops of this spicy sauce to your favorite marinade recipe to give it that extra kick taste buds will go wild for!
6. For your wings. Buffalo may be your go-to sauce when you're looking for wings with a  kick, but opt for Sriracha next time you're making your favorite finger food for a unique, flavor-packed twist.
5. To make spicy cream cheese. Whether using cream cheese to dip or spread, take it above and beyond by adding some Sriracha and whipping to blend. The cream cheese flavor will act as a base for the hot sauce, eliminating some of the spice while bringing out the flavor.
4. For spicy loaded nachos. Nachos loaded with meats and cheeses are the ultimate macho snack for any event. Add a Sriracha kick by infusing that sour cream you're serving with a few drops of rooster sauce.
3. In your cocktails. Mix up your happy hour with a satisfyingly spicy sip with the help of your favorite rooster sauce!
2. To butter you up. Adding Sriracha to your softened butter is a must-try. Spread on bread, moisten your corn, and even apply to your cooking sheet for a spicy solution!
And the #1 way to enjoy Sriracha is…..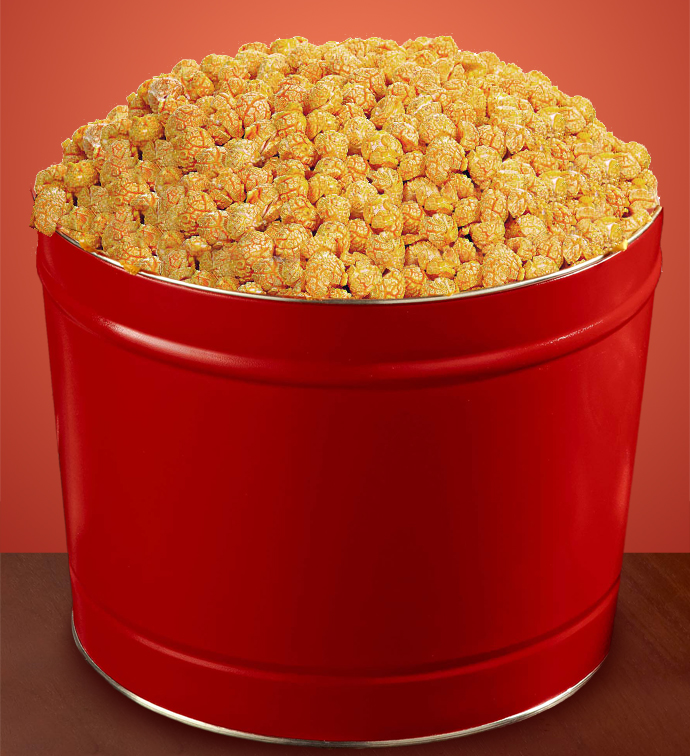 1. On Popcorn! The irresistible crunch of our savory popcorn paired with the mouth-watering flavor of Sriracha – a pairing sure to go down in flavor history!
d