Welcome Back,
It's time to dive into summer! We can't wait for the constant warm weather, sunshine and another holiday to celebrate our other very important parent: Dad. If finding the perfect gift for dad seems like it's always the hardest thing to do, keep check back with us! We have great gift ideas that Dad will both love and be impressed with… let's jump in!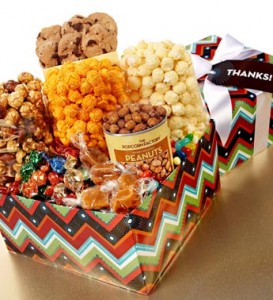 Unique Father's Day Gift Idea #1: Father's Day Summer Movie Kit
If there is one thing we love about summer, it would definitely be the great summer blockbusters hitting the screen every weekend. We may be biased, but nothing goes better together than a great movie and some delicious popcorn. For this Father's Day, put together a fun and delicious kit with all of Dad's favorite movie snacks, his favorite Popcorn Factory popcorn, and a movie he's sure to love!
Order our Zig-Zag Sampler that includes creamy vanilla caramels, sour hard candies, chocolate chip cookies, dry roast peanuts, assorted Jelly Belly® beans, and a delicious popcorn trio of robust Cheese, White Cheddar and Almond Pecan corn with whole almonds and pecans tossed in a buttery glaze. Pair this with a movie theater gift card from your local theater with a promise to go see a movie with Dear ol' Dad.
Or you could try our Movie Night Scoop Boxes, which come in a set of two, with all-natural Butter popcorn, red licorice twists, malted milk balls, gummy bears and Kiddy Mix candies. Pair this with a movie theater gift card or a new DVD/Blue-Ray movie that he is sure to love! Our Popcorn Bowl & Snacks gift will definitely ensure a great movie night at home and includes all-natural Butter, robust Cheese and secret-recipe Caramel corn, red licorice, Jelly Belly® beans, chocolate chip cookies and creamy, foil-wrapped chocolates.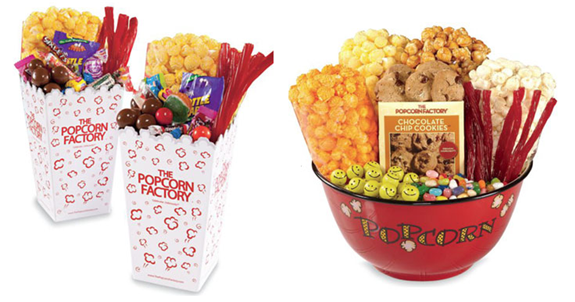 Our Ultimate Dad DVD/Blue-Ray Movie Picks:
In Theater Picks:
Check back with us next week for another Unique Father's Day Gift Idea!