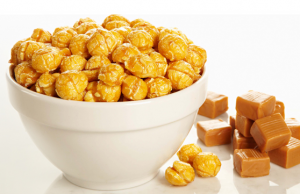 It's here, one of our favorite days! Happy National Caramel Popcorn Day! 
We take our caramel popcorn very seriously around here. As one of our top flavors that has been the inspiration for so many of our wonderful popcorn treats, a lot of love and labor goes into making our secret recipe caramel popcorn. First we…well, we can't actually tell you that part! And then we…hmm we can't tell you that part either. What we can tell you is that we use a super special secret recipe for our caramel, and we keep this recipe in a very safe location that only four people can access! I guess we can tell you one little secret: we use real butter in our recipe (shhh…don't tell anyone!).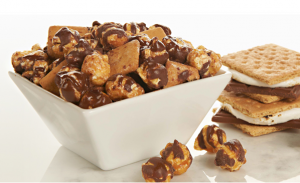 We love our caramel recipe so much, that many of the other recipes we've created over the past several years have been based on our caramel recipe. Some regular and season flavors include our caramel apple popcorn (with REAL apple pieces), almond pecan, butter toffee and butter toffee almond, banana cream pie popcorn, chocolate caramel, our fan-favorite s'mores popcorn, and thai peanut to name a few.
Did you know that The Popcorn Factory makes roughly 2 million pounds of caramel corn each year? And of that 2 million pounds, 1,700,000 pounds is caramel and 300,000 pounds is corn. We have special equipment that allows us to make more than 1000 pounds of caramel corn per hour. This equates to about 17 pounds every minute! We also have a team of people dedicated to ensuring that the first pound of caramel popcorn is as high in quality as the 2 millionth. People really love their caramel popcorn, and we're certainly at the top of that list!
So how should you celebrate your National Caramel Popcorn Day? Deliciously of course! But here's a few pointers anyway. 
Combine your caramel corn with sliced apples for a sweet and refreshing treat
Do a traditional "Chicago Mix" and combine caramel corn with cheese popcorn!
Make caramel popcorn crispy treats with melted butter and marshmallows
We'll be celebrating all day, so check our Facebook page and website and join in the fun!