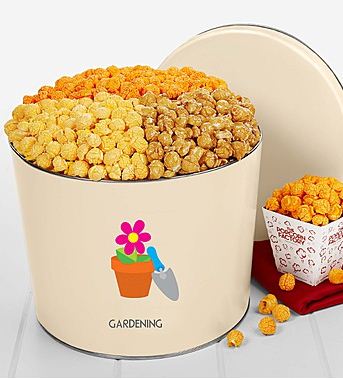 Let's all get into the recycling spirit: Earth Day is Monday, April 22! Show our planet and your friends some love by gifting the fun (and reusable!) Tins With a Spin from The Popcorn Factory. Aside from being filled with everyone's favorite popcorn flavors, these popcorn tins come with a little surprise: They come in different themed patterns so you can reuse them once the snacks are done—no DIY painting or decorating required. Talk about upcycling made easy!
The idea behind this perfect Earth Day gift came straight from you: our lovely fans. When we asked, "What do you store in your empty Popcorn Factory tins?" your answers inspired us to create this one-of-a-kind collection. We came up with six adorable designs for you to choose from, depending on what you want to store in your tins after you've devoured your delicious treats:
So mouthwatering snacks and extra storage space makes this popcorn gift doubly delightful—plus it helps save the Earth's resources!
Even More Different Uses for Popcorn Tins
Have other Popcorn Factory tins at home that you'd like to upcycle in honor of Earth Day? If you prefer to take the DIY route and decorate your tins yourself, here are some other items you can store in your crafty creation:
Arts and crafts supplies
Sewing or knitting materials
Gift-wrapping supplies
Magazines
Hats, gloves and scarves
Hair accessories
Kitchen utensils
Spare change
Cookie cutters and other baking supplies
Umbrellas
Plants or flowers
Wood logs for the fireplace
Small towels
Ice and cold drinks
Tea packets or single-serve coffee cups
Flour or sugar
Bath toiletries
What will you be storing in your Tin With a Spin to celebrate Earth Day this year?