The month of December means several things – family reunions, winter treats like peppermint and eggnog, and holiday traditions. One of our favorite traditions during the winter is hosting a holiday movie night with our family members and neighbors.
Keep in mind, there's so much more to movie night than just picking a good holiday movie – so we've put together this list of tips and ideas to ensure you'll have THE holiday movie night of the season!
Choose the Movie
While it's not the only important factor, picking the right movie for your crowd is a delicate art. Do you go with a classic film that tugs at the heart strings and appeals to an audience of all ages? Or do you go with an animated flick the little ones will love giving the adults time to snack and schmooze?
Celebrations.com has cut your work in half by putting together a definitive list of the top 10 Christmas movies of all time – are your favorites in the list? If not, let us know in the comments what movie YOU would add or get rid of!
"Deck the Halls"
Decorate in loud, vibrant colors that will entice both the young and the young at heart. Get inspired with these holiday and Christmas decorating ideas from Celebrations.com – from DIY ideas to color inspiration, you'll find the tools you need to take your event to the next level.
Alternatively, you can keep it simple by adding subtle, sporadic elements inspired by the chosen movie. Playing a movie with Santa or Rudolf? Whip up a simple DIY Reindeer Wreath like the one pictured above!
Celebrate With Snacks
Keep your guests fueled for the night's antics with the age-old movie night snack pairing: popcorn. Of course, you know just where to turn to for your movie night popcorn needs!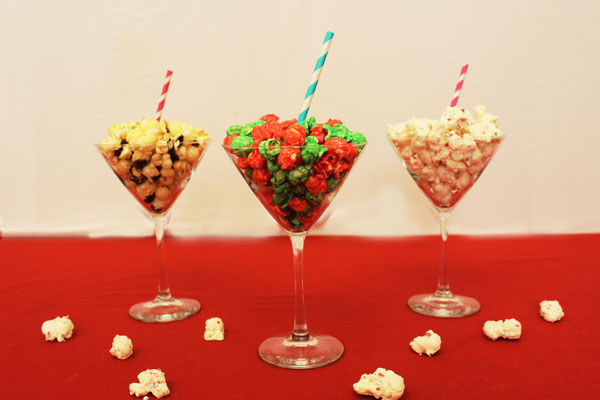 If it's just family, grab a few popcorn scoopers and place your favorite popcorn tin in the center for all to enjoy. If your movie night has been extended to include friends and neighbors, serve them in fun ways such as in cocktail glasses or cellophane bags with a fun tag attached!
Poppin' Fun With Activities
How can you take your holiday movie night above and beyond? With activities paired with your movie pick! We love this roundup of 12 family activities paired with classic Christmas flicks from Celebrations.com. Will you play pranks like Kevin McCallister or celebrate Ralphie Parker's infamous bunny suit by snacking out of bunny cups? The possibilities are endless!
What elements will you incorporate into your holiday movie night? Let us know in the comments!