For the last 30 years, The Popcorn Factory has been the leader in providing fun and delicious popcorn treats that bring a smile to all who try them. We've stayed on top because we love what we do and aren't afraid to try new ideas; which is why we're proud to present to all of our fans, our new 2012 FUNdraising Program!
Our people pleasing popcorn snacks are already enjoyed for their premium taste and quality, but now you can share and enjoy these treats while receiving 25-50% profit for your organization or charity!
So what should you do to ensure a successful fundraiser?
Plan early and set a goal! Taking the time to work on your fundraiser gives you the opportunity for success, especially when you have realistic goals to work for.
Make a list of reliable volunteers! You need people who are just as excited and dedicated to making your fundraiser effective.  Choose those who you know have the time and ability to put in the hard work with you during your endeavors.
Consider year round fundraising! We're sure your initial fundraiser will be a hit, so continue the cause and make some customers very happy that they can refill their orders, or bring smiles to new faces!
Maximize your opportunities at events! Our delicious popcorn is the perfect snack for school and sporting events, you'll find a lot of happy customers and be able to reach your goals.
Most importantly…Make it fun!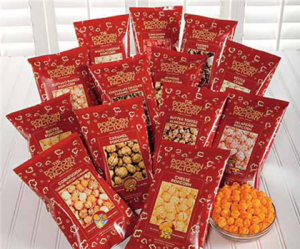 It's simple: Choose from our FUNdraising gift selections in either our gift items like gift tins, snack assortments, and Clear Favorites popcorn canisters or select from our gourmet individual bags of popcorn flavors or our famous gourmet popcorn balls. With supplies this delicious, they'll certainly go fast! Once they're sold, your gifts can be shipped directly to you for distribution or to the recipients for an easy process. You earn 25% profit from our Gift Item collection sales, and 50% profit from our gourmet popcorn bags and gourmet popcorn balls!
Of course we can't resist offering great deals; you can receive a 50% discount on an 18 pack case of gourmet popcorn bags, or a 100 pack case of gourmet popcorn balls!
Check out our FUNdraising page here and see how you can get started on helping your organization!